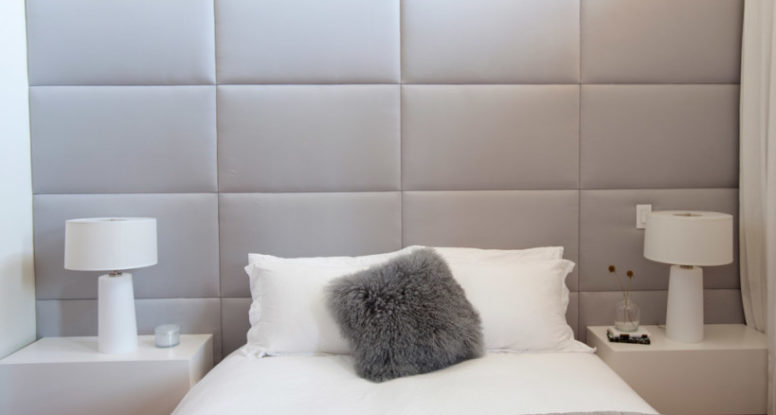 Downtown Condo Soundproofing
Anyone who owns a condominium in a multiple unit building can tell you that one of the main drawbacks is sound coming through the walls. No matter how well a building has been constructed and no matter the thickness of the walls, the fact remains that your neighbors are just several feet away and therefore some noise is going to bleed through. This is just one of the drawbacks to condo living, but fortunately there is an effective and stylish solution that will solve the problem for downtown condo soundproofing.
Soundproof Headboard Installation
You never have to sacrifice the style of your interior just to soundproof your condo. Installing a soundproof headboard behind your bed will not only block out any noise coming through the wall but can also be matched to the interior decor of the room and best of all, THE FABRIC IS EASILY CHANGEABLE! An upholstered headboard has an attractive design that will not diminish the style of your bedroom. As a matter of fact, upholstered headboards look so great that they oftentimes add greatly to the look and style of your home. The upholstery can be matched to suit your color choice and there are several different design styles to choose from. No matter your personal preference, you can be sure to find just the right headboard to perfectly compliment the style of the room.
Not only do upholstered headboards look great, but they are also incredibly effective in blocking out noises from other units, hallways, and the outside. These headboards are designed to absorb noise and eradicate it before it reaches your ears. You will be able to sleep soundly in perfect silence no matter what may be happening on the other side of the wall. Home improvement installations just don't come as stylish, simple, and effective as an upholstered headboard for sound proofing.
Quick Installation
Installing a soundproof headboard is a quick matter for any professional service. Unlike many home installations that can last for days and prove to be a major inconvenience, installing a soundproof headboard will take no longer than an hour or two. All that you have to do is pick out your headboard and let the professionals put it in place in less than the time it takes to have lunch. This makes soundboard installation one of the quickest and easiest installations available for condo owners.
With its effective soundproofing, quick installation, and stylish presentation, a soundproof headboard is the perfect option for condo owners looking to keep noise from other units out of their bedrooms. For downtown condo soundproofing, you just can't go wrong with upholstered headboard installation.
Please Feel Free to Contact Shazcor Modern Wallpaper Anytime